Correct
Advanced Skincare to Improve Specific Skin Concerns
SkinCeuticals CORRECT products combine anti-aging, clarifying, moisturizing, and exfoliating ingredients to address a wide array of skin concerns including the appearance of wrinkles, discoloration, blemishes, and more. When used regularly, these targeted products help restore a healthier and more youthful appearance.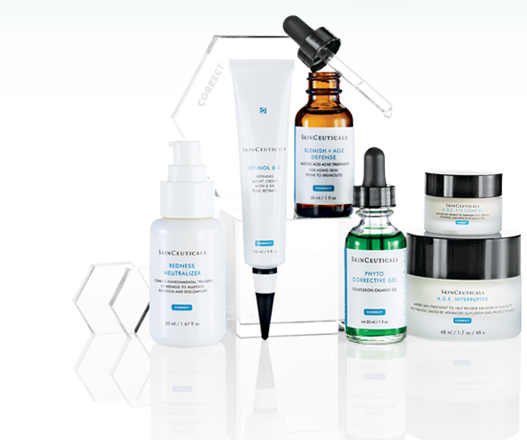 Best selling LHA Cleanser and Blemish + Age Defense are clinically proven to fight acne. Now featured together in a limited edition set with Phyto Corrective Gel to calm and hydrate the skin. Valued at $220 save 11%.

Intensive calming botanical face mask to rehydrate and soothe temporarily reactive skin

A patented anti-aging cream to refill cellular lipids and nourish dry skin. U.S. Patent No. 10,137,073.

High-concentration anti-wrinkle cream formulated to improve the visible signs of aging caused by advanced glycation end-products (A.G.E.).

A multi-functional corrective serum to help amplify skin's hyaluronic acid levels

A rich, hydrating crème helps reduce puffiness and improves visible signs of aging around the eye area.

Combats environmental triggers to alleviate skin blotchiness and discomfort.

Therapeutic moisturizing cream that protects and soothes compromised skin.

A hydrating, soothing gel serum with botanical ingredients ideal to calm and hydrate skin while improving visual redness.